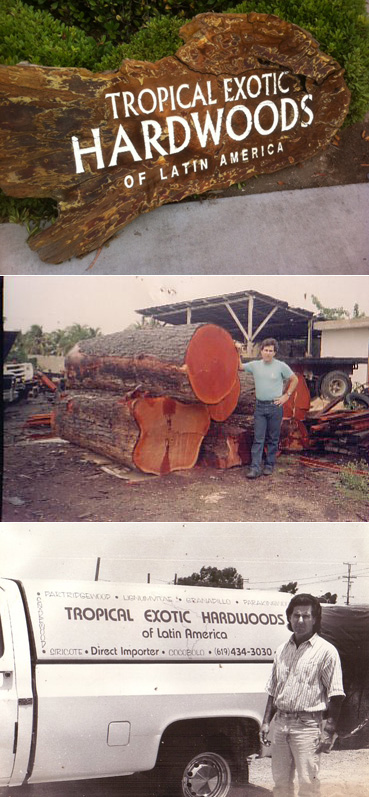 Since 1972, Tropical Exotic Hardwoods has been the ultimate source of fine exotics at the best prices anywhere
With nearly 100 different species in our inventory, we carry a great assortment of turning stock, hard-to-find exotic lumber, and a large inventory of natural edged slabs (incuding our best selling Parota slabs) for everything from desks to conference tables.
We have owned and operated our own sawmill in Mexico since 1984, and are a direct importer of Parota natural edged slabs, Parota lumber, Mexican Kingwood (Camatillo), Cocobolo, Bocote, Granadillo and Primavera (Blond Mahogany).
For wholesale/volume inquiries, we can custom-cut material to exact specifications for a variety of manufactures at our own sawmill and pride ourselves in setting the standard for legally imported, high quality exotics at the best prices possible. (Please contact us for more information in regards to pricing and availability.)
We are in our third 10-year controlled harvesting study through the Mexican Department of Agriculture, which has guaranteed that these species continue to be carefully harvested and successfully replanted for future generations.
As a family run business, we enjoy getting to know our customers and feel privileged to have supplied wood to thousands of amazing projects over the past 42 years!
Please do not hesitate to contact us by email, phone, or visiting our warehouse in Carlsbad, CA. We will do whatever it takes to personally assist you in finding that unique piece of wood to complement your next project.

We look forward to serving you and thank you for your business!
Tropical Exotic Hardwoods
760.268.1080